Expert advice and consultation
Everyone is different. We firmly believe in offering everyone the most suitable treatment(s) based on their particular needs.
Prior to any treatment you will be invited for a free private consultation for an assessment and costing.
We continually assess your treatment outcomes to ensure satisfaction.
Click on a treatment below to find out more.
Would you like to stop worrying about excessive hair? Or are ingrown hairs getting you down? Save time not having to shave, wax, tweezing or threading with this long-lasting solution.
Do you wish you had never had a tattoo? Are you looking to fade a tattoo for a new design? Do you need to remove a tattoo to help pursue your career? Mode Laser Skin Clinic uses the advanced active Q-Switch lasers for tattoo removal..
Facial broken capillaries and Rosacea treatment can help to reduce facial redness and flushing, get rid of embarrassing vessels or red spots, and manages flare-ups of Rosacea. These conditions are more common in fairer skin types.
The non-invasive treatment removes unsightly broken leg vessels and red spots that can occur anywhere on the body (campbell de morgan spots) . They can cause distress and embarrassment for those that have them.
Do you want a more even skin tone or perhaps want to target a specific age spot or reduce excess freckling? Sun-spots, freckles and other unwanted pigmentation are often associated with skin ageing and sun damage.
Micro needling is a skin rejuvenation method that fills and softens wrinkles and scars. It causes the skin to tighten and lines and wrinkles to reduce. Scarring is greatly reduced, as in acne scars, surgical scars, pitted or indented scars.
We offer an extensive range of acne treatments and some key products to use in conjunction with the treatments. We are happy to advise on the most suitable procedure for you and your skin.
A skin peel is the most comprehensive way to refresh the skin. It targets specific skin concerns. It effectively minimises fine lines and wrinkles, blemishes, pigmentation and enlarged pores, combatting UV exposure damage, acne and assists in reducing fine lines and wrinkles.
Electrolysis is a permanent hair removal solution for all hair colours and types. A fine insulated or gold needle is used to reduce discomfort this is inserted into the hair follicle and the process prevents new hairs from growing.
Often unsightly or inconvenient, skin tags are almost always harmless. They are very common, and are relatively quick and easy to remove, helping restore body confidence.
Tiny white bumps are actually keratin proteins which are trapped under the skin and have nowhere to go. Usually found on the nose, cheeks and chin – although they can appear anywhere. Treatment is relatively quick and effective.
Using a combination of skin peels and IPL treatments to stimulate collagen and elastin and targets capillaries and pigmentation in the skin. This is particularly good for those wanting to reduce or slow down the signs of aging.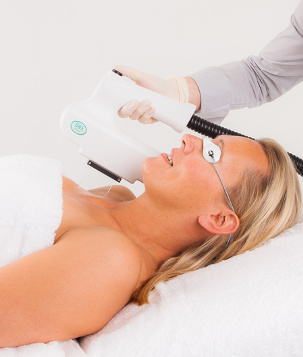 COMBINATION SKIN TREATMENTS
Mode offers a number of combination therapies designed to maximise the benefits of individual treatments. These are all tailored to your needs and usually require of a course of six treatments. Two examples are: Microdermabrasion with IPL treatments.
Treatments include botulinum toxin (also known as botox), dermal fillers and skin boosters.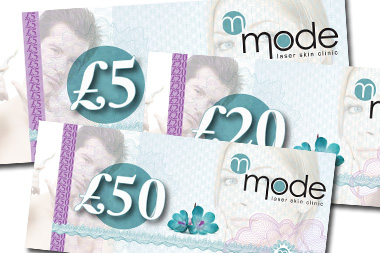 GIFT VOUCHERS NOW AVAILABLE
If you're stuck for what to buy your loved ones, why not treat them to our Mode Laser Skin Clinic gift vouchers. These vouchers cover all our services.
Vouchers are valid for 12 months from date of purchase.
Follow us on Facebook & Instagram