BROKEN CAPILLARIES & ROSACEA
Facial thread veins or broken red veins (telangiectasia) are small unsightly superficial red, purple or blue veins that occur around the nose and across the cheeks and chin.  These broken veins occur when the vein dilates and become larger this is the cause of them becoming visible through the transparency of the skin.  Although facial veins / spider veins are quite common they can cause some distress and embarrassment for those who have them.
Facial veins may be hereditary or as a result of a variety of factors including damage from sun exposure, wind and the extremes of temperature. Often the exact cause is unknown and may just be part of the natural ageing process or as a part of a skin condition called rosacea.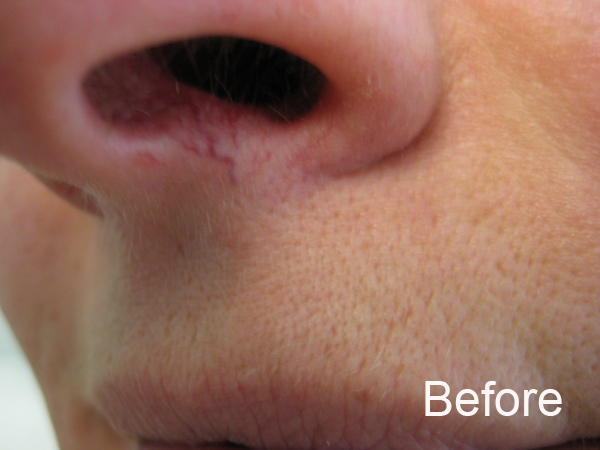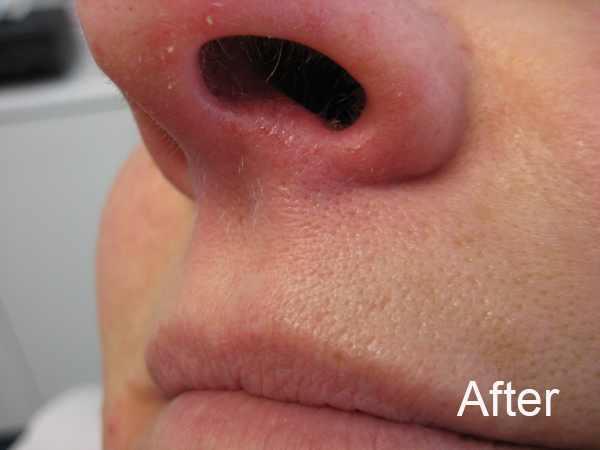 Rosacea is a common and long-term skin condition that mainly affects a person's face. When rosacea first appears, the face may look flushed. Later symptoms include permanent redness, spots, visible blood vessels and a sensation of burning or tingling. Rosacea mainly affects people with fair skin.
The cause of rosacea is not known, although there are several different theories. One theory is that rosacea may be a disorder of the blood vessels. Or that it is caused by microscopic skin mites, or a fungus. Although no one knows definitely what causes rosacea, some circumstances and conditions can trigger the condition.
IPL provides a long term solution to facial vascular conditions such as thread veins and Rosacea. Also red spots (Campbell de Morgan) that tend to be on the torso and limbs, when treated with IPL or Laser, the heat causes these lesions to turn grey in colour and are re-absorbed by the body.
Small broken leg vessels can also be treated successfully with Long Pulsed Yag.
The light penetrates the layers of skin and is absorbed by the blood. The heat generated during the treatment blanches the capillaries causing coagulation of the blood. The body's natural processes then eradicate the injured tissue which leaves the surface of the skin smoother, unblemished and luminous. This normally takes 3 to 4 weeks
WHAT IS THE PRE-TREATMENT ADVICE?
A full consultation is carried out prior to treatment to ascertain your suitability and individual treatment needs.
It will feel a bit uncomfortable, but the treatment is quick and is described like a hot pin prick Lots of cooling is delivered throughout the treatment and afterwards to reduce any discomfort.
If you want to reduce Rosacea flare-ups, facial capillaries and flushing then a patch test will be carried out to confirm if you are suitable for the treatment. 
WHAT SHALL I EXPECT AFTER THE TREATMENT?
The skin will look worse and feel tingly for up to 48 hours after the treatment, but will usually calm down very quickly and any vessels that have darkened will get reabsorbed and be less obvious.
Avoid any activities that will increase your temperature for 24-48 hours.  Use a SPF 30-50 daily and avoid sun exposure.
Some of the vessels will disappear, but in some cases they may darken. Though these will disappear after a short time. Immediately after the treatment for rosacea the skin will look worse as we have heated the skin but this will calm down over 48 hours.
ARE THERE ANY SIDE EFFECTS?
Lesions can darken and swelling can be experienced if the cheeks have been treated. This tends to last a maximum of 1- 3 days
However most people experience little or no side effects, and any reaction disappears within a few hours.
HOW MANY TREATMENTS WILL I NEED?
Usually you need 3-6 sessions depending on the condition treated, and maintenance treatments will be needed to keep on top of the condition.
Please call Mode Laser Skin Clinic on 01543 256844 or 07968 192893 to arrange your free consultation.
Follow us on Facebook & Instagram