Do you wish you had never had a tattoo?
Are you looking to fade a tattoo for a new design?
Do you need to remove a tattoo to help pursue your career?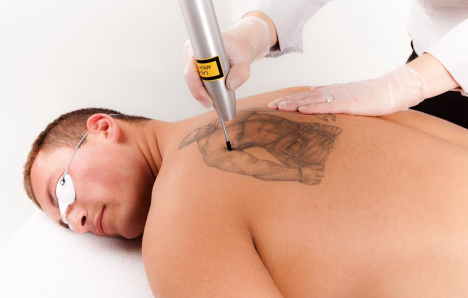 Tattoos are of two main types: the Indian ink, amateur tattoo or the multi-coloured, professional tattoo. Single-colour tattoos usually respond best to laser tattoo removal. Multi-coloured professional tattoos are much more difficult to eradicate completely.
Black, blue, red and green colours in the tattoo respond best to treatment, but yellow and purple pigment can be more difficult.
Your tattoo will be assessed and, in the majority of cases, laser tattoo removal will be recommended.
Active Q-Switch Laser generates a high powered beam of laser light in an extremely short pulse and are the most suitable lasers for tattoo removal treatment. The light is absorbed by the tattoo ink particles, breaking them down into smaller pieces, enabling your natural immune defenses to absorb and disperse the ink. A gradual fading of the tattoo occurs over a series of treatments.
A free, full consultation is carried out prior to treatment to ascertain your suitability and individual treatment needs.
WHAT DOES THE TREATMENT FEEL LIKE?
The sensation is similar to being flicked with an elastic band or a hot pinprick.
Most people tolerate the treatment well but do find it quite uncomfortable, and we use lots of cooling to reduce the discomfort
If your tattoo is black, blue or red you are suitable for tattoo removal and we can reduce it by up to 90- 95%, which will look as if you have never had a tattoo. Green and yellow and pastel colours are more difficult to treat and results may vary. A patch test will be carried out to confirm if you are suitable for the treatment.
WHAT SHALL I EXPECT AFTER THE TREATMENT?
The vessels will darken and there will be some slight swelling. And you will experience a tingling sensation. If leg vessels are treated the wearing of compression tights or stockings will aid the healing process, and elevate the legs when possible. Avoid wearing socks that are tight and cause indented marks.
Some of the vessels will have disappeared and some will be smaller, further treatments will be needed to shut these vessels down completely. The red spots will turn grey and over a period of time be reabsorbed by the body.
Keep the area clean and dry. It will feel tender and swollen for up to to 48 hours. If any grazing or blistering occurs it will heal in 5-10 days.
ARE THERE ANY SIDE EFFECTS?
Some people do experience darkening or lightening of the treated skin, and in most cases this returns to normal after a few months. Changes in skin texture and mild scarring can occur, but this is not common, it tends to happen if grazes and blisters are not allowed to heal properly.
HOW MANY TREATMENTS WILL I NEED?
On average between 8-12 treatments are needed and the sessions are 6-8 weeks apart.
Please call Mode Laser Skin Clinic on 01543 256844 or 07968 192893 to arrange your free consultation
Follow us on Facebook & Instagram