New skin rejuvenation method has arrived
We are proud to be able to be one of the first aesthetic clinics in the UK to be able to offer the EPN micro needling and electroporation skin rejuvenation method!
New treatment restores, repairs and regenerates for younger looking skin for the face and body!
Over a twenty-year career in professional skincare, I've seen the techniques and technologies that are utilised change drastically. Over the years, technological advances have meant that treatments have become safer, less invasive and more effective.
At Mode Laser Skin Clinic, we have always prided ourselves on offering highly personalised treatments that use the latest, safest and most rigorously tested equipment and products.
As a clinical professional, I'm always on the lookout for innovation and technological developments that can improve the aesthetic outcomes of my clients. One of the most exciting recent innovations has been the application of electroporation needling (or EPN) to the skincare industry. Originally used by microbiologists, this technology applies a small electrical field to cells while microneedling, making the cells more permeable. By doing so, this technique encourages the skin to absorb products more deeply into the cells, providing noticeably improved results.
EPN has proven effectiveness on treating a range of applications including the treatment of acne and scarring, open pores, lines and wrinkles, stretch marks and can even stimulate the production of collagen in the skin. It is perfect for skin rejuvenation and skin laxity.
We are proud to say that Mode Laser Skin Clinic is the only place in the Lichfield area that offers this game-changing innovation and we will be using the industry leading, Lynton EPN Pen, to ensure the highest quality and safest results.
For more details on the treatment, including treatment time, cost and advice, click on this link.
I look forward to showing you the difference EPN can make!
– Kathryn Lolley, Director of Mode Laser Skin Clinic
A full electronic treatment booklet can be downloaded here: EPN-PEN-Mode-Laser-Skin-Clinic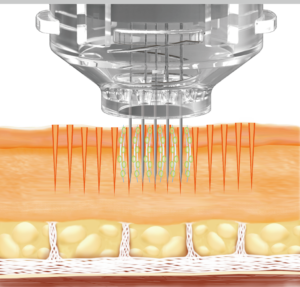 Follow us on Facebook & Instagram